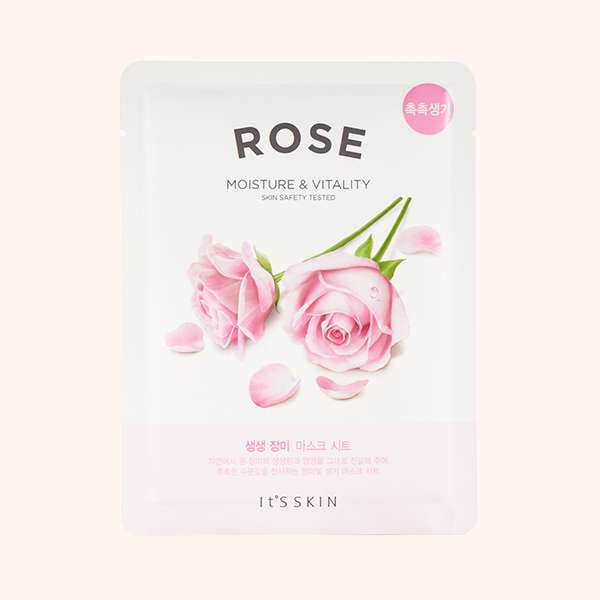 Inhalt:
20 g (9,75 € * / 100 g)
inkl. MwSt. zzgl. Versandkosten
Sofort versandfertig, Lieferzeit ca. 1-3 Werktage
The Fresh Mask Sheet – Rose mit Rosen-Extrakt mildert...
mehr
Produktinformationen "IT'S SKIN The Fresh Mask Sheet - Rose"
The Fresh Mask Sheet – Rose mit Rosen-Extrakt mildert Hautreizungen, unterstützt die natürliche Hautregeneration und reduziert erste Anzeichen der Hautalterung. Für eine jugendliche Ausstrahlung!
Über das Produkt:

The Fresh Mask Sheet – Rose ist in einer konzentrierten Formel von Pflegewirkstoffen getränkt, die schnell einzieht und die Haut sofort erfrischt, ohne sie auszutrocknen. Natürlicher Rosen-Extrakt beruhigt Ihre Haut, lindert Reizungen und wirkt entzündungshemmend. Es beschleunigt die Hautregeneration, schützt als Antioxidans die Haut vor freien Radikalen und beugt erste Anzeichen der Hautalterung vor. Die pflegende Textur spendet reichhaltige Feuchtigkeit, glättet Ihre Haut und stellt die Elastizität wieder her. Die Tuchmaske hat ein angenehmes Tragegefühl und durch die ideale Passform lassen sich die Wirkstoffe gleichmäßig auf Ihrer Haut verteilen. Die perfekte Ergänzung für Ihre tägliche Pflege.
Eigenschaften:

natürlicher Rosen-Extrakt mildert Hautreizungen und Entzündungen
fördert die natürliche Hautregeneration
wirkt vorzeitiger Hautalterung entgegen
versorgt die Haut optimal mit Feuchtigkeit
stellt die Hautelastizität und Festigkeit wieder her

lässt die Haut jugendlich strahlend erscheinen
Anwendung:

Nach der Reinigung der Haut, die The Fresh Mask Sheet - Rose auf das Gesicht auflegen und sie 15 bis 20 Minuten einwirken lassen. Danach die Maske entfernen und die verbliebene Essence sanft mit den Fingerspitzen einmassieren bis sie vollständig in die Haut eingezogen ist. Nur zur einmaligen Anwendung geeignet.
Ingredients:
Water, Dipropylene Glycol, Glycereth-26, Glycerin, Methylpropanediol, Propanediol, Butylene Glycol, Olive Oil PEG-8 Esters, Rosa Centifolia Flower Extract, Caprylic/Capric Triglyceride, Xanthan Gum, Chondrus Crispus (Carrageenan) Extract, Carbomer, Hydroxyethylcellulose, Allantoin, Dipotassium Glycyrrhizate, Disodium EDTA, Triethanolamine, PEG-60 Hydrogenated Castor Oil, Chlorphenesin, Citrus Grandis (Grapefruit) Seed Extract, Acorus Calamus Root Extract, Perilla Ocymoides Leaf Extract, Polysorbate 60, 1,2-Hexanediol, Caprylyl Glycol, Glycyrrhiza Glabra (Licorice) Root Extract, Schizandra Chinensis Fruit Extract, Coptis Japonica Root Extract, Zingiber Officinale (Ginger) Root Extract, Camellia Sinensis Leaf Extract, Fragrance
Lesetipp:
Weiterführende Links zu "IT'S SKIN The Fresh Mask Sheet - Rose"
Bewertungen lesen, schreiben und diskutieren...
mehr
Kundenbewertungen für "IT'S SKIN The Fresh Mask Sheet - Rose"
Bewertung schreiben
Bewertungen werden nach Überprüfung freigeschaltet.